Forms And Links For Currently Enrolled Families
Forms And Links For Currently Enrolled Families
Covid Policy '23-24
COVID is considered an infectious disease by the state of Minnesota. NDA has to report any outbreak over 10% of our student body.
Our COVID protocols K-8:
If a student is COVID positive ~ They must quarantine for 5 days.
After the 5 day quarantine ends, a student can test negative and return to school. If they continue to test positive, the maximum amount of total time quarantined is 10 days and then they can return OR they can return to school and wear a mask for 5 days. There are no protocols regarding close contacts/siblings. 
Forms
Attached are various forms that you may print and send to school. If you do not see a particular form listed, please contact us.
Carline Information
Carline Morning Logistics at 8:40am
We use two different doors for morning carline. The bus students will be dropped off at the back playground door.
Preschool families – Please park in the back playground lot and walk your student to their classroom using the ramp door. If you also have a K-8 sibling, please walk your K-8 students to the playground ramp door where a staff person will greet your K-8 student where they can then proceed to their classroom.
K-8 families – Please enter the IHM church lot from Mayview Road via the second (south) entrance. Form a line heading toward the church and snake around to the main school office door to drop off your student. This will give us more space for the line while keeping cars off of Excelsior and Mayview. Our front school doors will have a staff person to greet students from 8:40am-9:00am. Anyone arriving late will need to park in the visitor spots and enter through the front office door to sign your student in.
Carline Afternoon Logistics
We will use the front main entrance for students riding the bus. Carlines will form at the parish/church doors and the back playground door. Please see below for your assigned line.
Preschool families – Please park in the playground parking lot and walk to the cafeteria door to greet your student at 3:45pm. Please wait in your car for your K-8 siblings, they will come out with the rest of the carline after the 3:55pm bell.
K-8 Families with the last names A-H – Please line up in the playground parking lot. The line will form to your left as you enter the parking area. Only preschool families who need to park should exit their cars.
K-8 Families with the last names I-Z – Please line up off of Mayview Road heading toward the church entrance.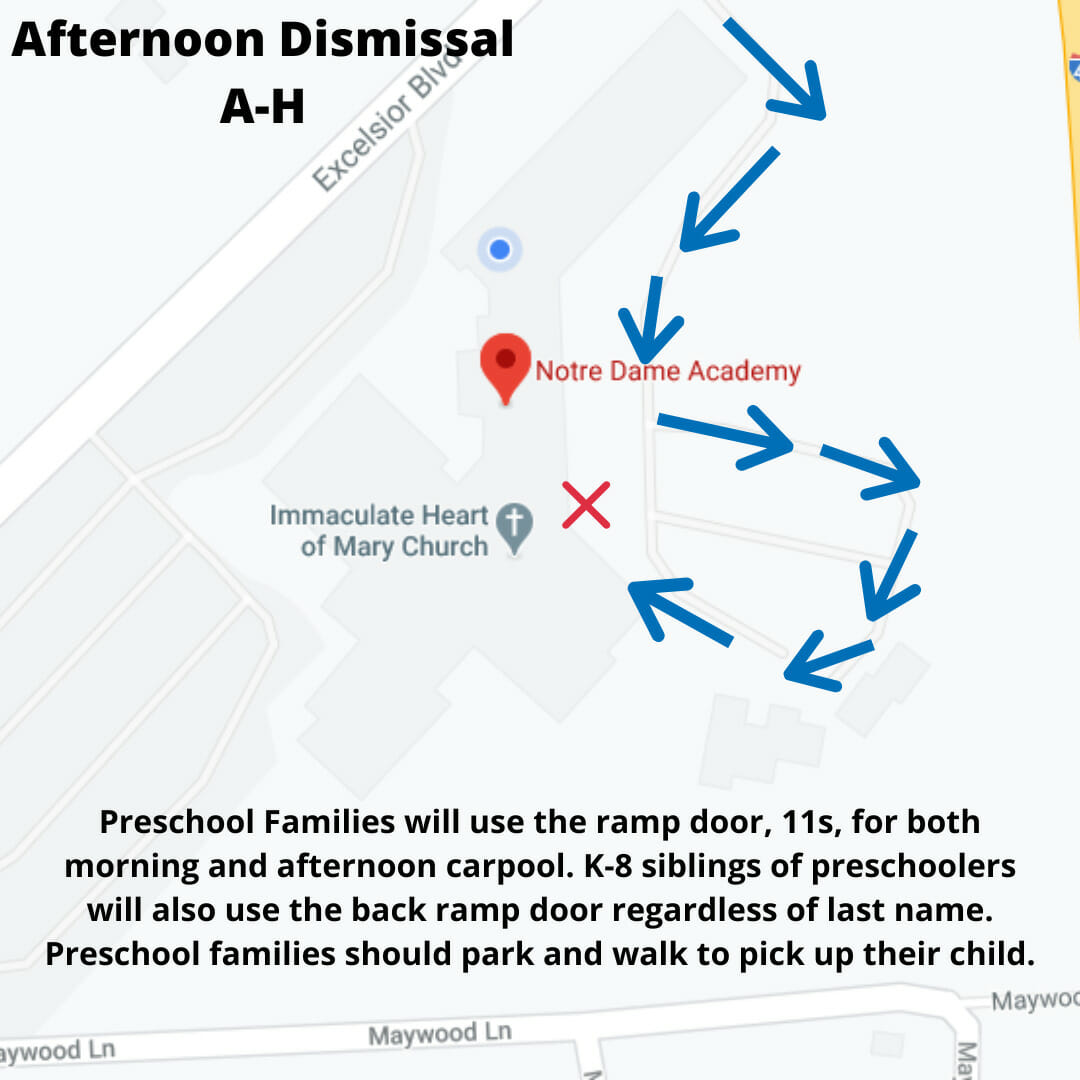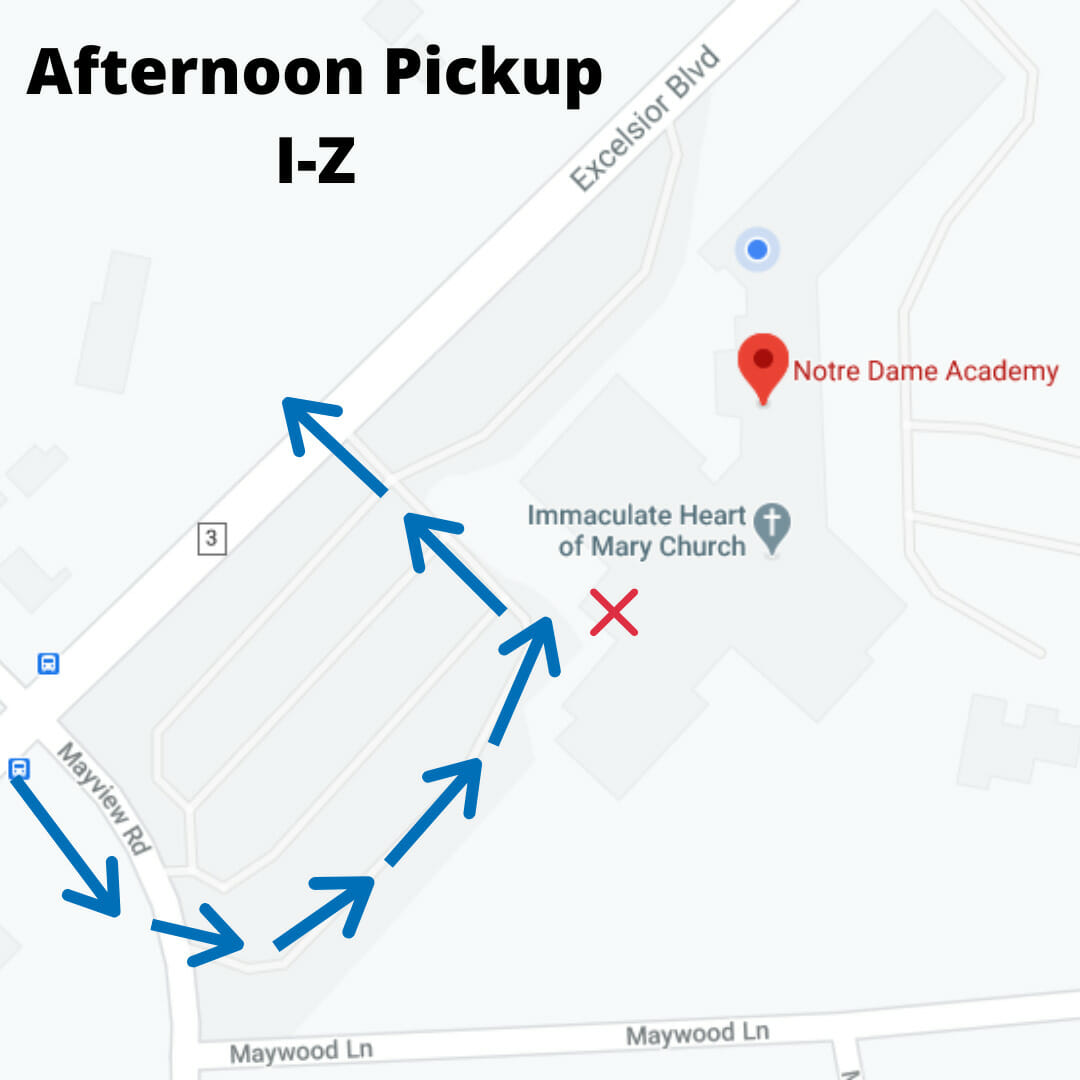 Become an NDA Volunteer
We welcome and encourage volunteers in our school and we have numerous opportunities available.
Notre Dame Academy fosters a culture that promotes and supports an active community. We believe an active community is essential to providing the supportive and nurturing environment our community desires for each of our students.
Volunteer Requirements
We welcome and encourage volunteers in our school and we have numerous volunteer opportunities available. Before volunteering with the students, Archdiocesan policy requires background checks, Virtus (safe environment) class, and a signed Code of Conduct for all adults who volunteer at Notre Dame Academy. This includes anyone who assists in any classroom/school activity, party, lunchroom, or fieldtrip.
All employees, and volunteers who interact with minors, are required to complete and maintain safe environment credentials through the Archdiocese of Saint Paul and Minneapolis.
To ensure successful completion of the requirements, follow the information below before creating your VIRTUS account. If you have an existing VIRTUS account, contact Liz Flom for assistance so your account can be updated prior to login. 
Total Time Commitment: Approximately 95 minutes
Set aside sufficient time to complete all items without logging out.
Incomplete accounts may result in lost data, requiring you to repeat your setup.
Read and follow the directions on the website in the order presented.
Skipping items, fast-forwarding or backing up may corrupt your account and require you to repeat your assignments.
You will:
Complete each registration field as presented on the screen
Complete the Code of Conduct
Complete the Background Check application (SSN is

 

required)
Complete Safe Environment Training (1 module, approximately 75 minutes)
VIRTUS website:  www.virtusonline.org
Use Google Chrome browser and allow pop-ups for this website.
For more information on the Archdiocesan Safe Environment requirements, visit www.safe-environment.archspm.org/essential-3 .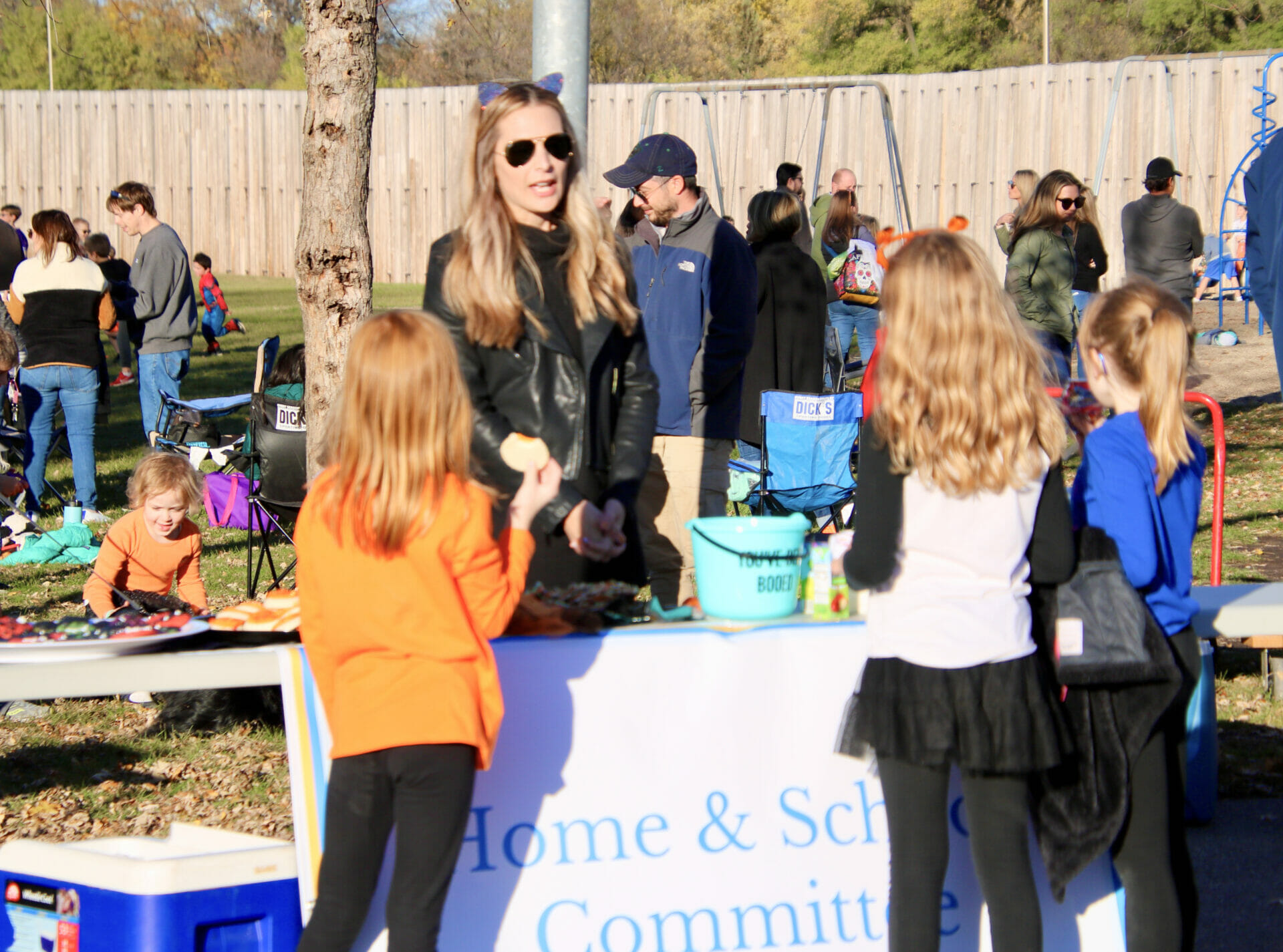 Home and School Committee
Mission:
The Notre Dame Academy HSC (Home & School Committee) is a committee whose purpose is to support and enhance the educational and social environment of Notre Dame Academy. Its goals are to encourage the parents, teachers and students to learn, socialize and grow academically, socially and spiritually. 
Goals: 
Helps build a community of parents, teachers and staff

Encourages teacher and staff appreciation

Facilities a wide variety of events
Chairs: Heather Peters & Jodie Murray
Past-Chair: Kenna Dooley
HSC Members: Emily Colletti, Sarah Hauer, Molly Waldeck, Stacy Shumacher, Amanda Johnson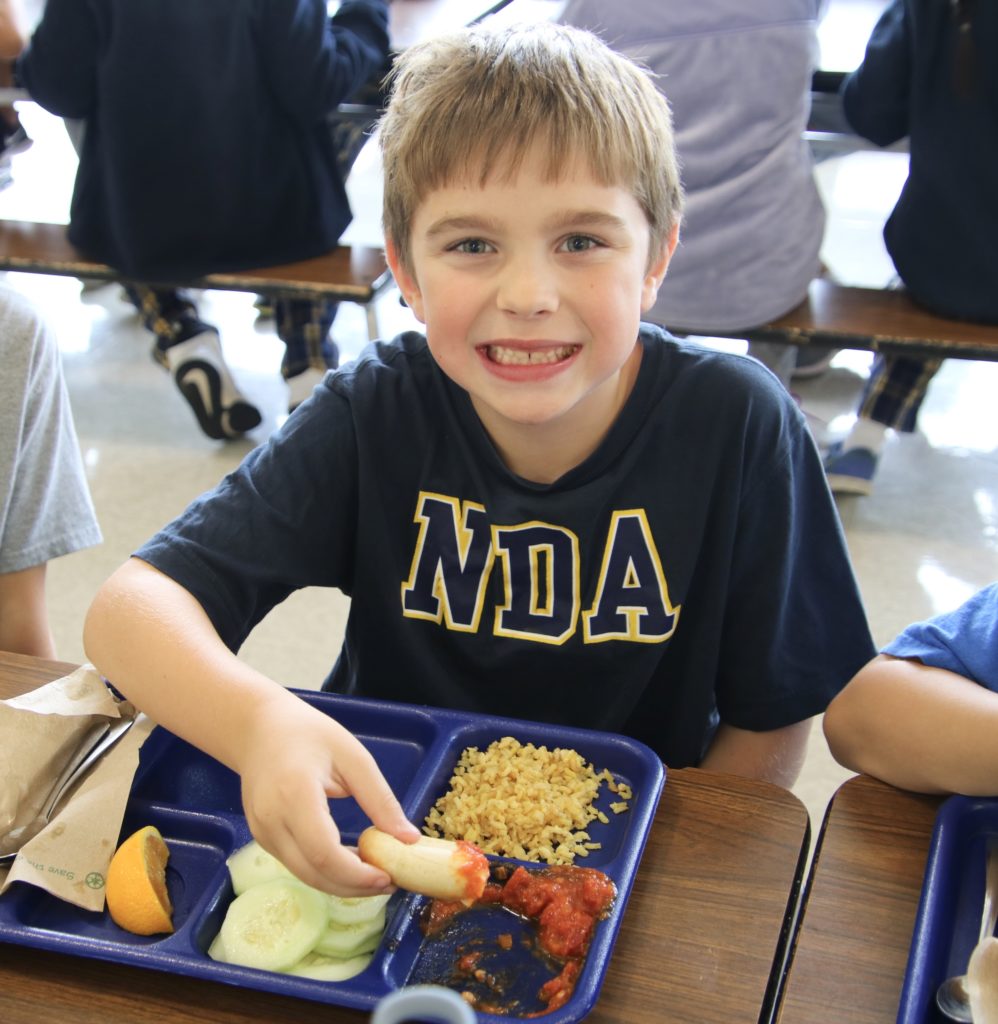 Lunch Program
Notre Dame Academy is proud to offer a unique home-cooked hot lunch program for students. Our kitchen is fully staffed and students overwhelmingly enjoy the menu items offered. Students prepay for lunches and maintain individual accounts through PIN numbers. The state and federally funded Free and Reduced Lunch program is available for eligible families. Your child's eligibility status (free, reduced, paid lunches) is private data. Families must re-apply each school year to determine eligibility for the free and reduced lunch program. Further information on the lunch program is available in our handbook or you may contact the office.
Before And After Care Programs
To help our working families, Notre Dame Academy offers before and after school care for all families who need this service. Our two programs allow you to pick the days and times that work for you. We also offer a summer camp for all ages. If you are interested in this option for your PK child, you may register through ProCare.
If you are interested in this option for your K – 8th grade child, you may register using the link listed above on this parent resource page under the subtitle forms.
School Hours
K – 8 Program: 9:00 a.m. – 3:55 p.m.
PK Programs: 9:00 a.m. – 3:45 p.m. Part-time and full-time schedules are available.
School Office: 8:00 a.m. – 4:30 p.m. (Summer hours are Monday-Thursday from 9:00 a.m. – 2:00 p.m., we are closed on Fridays.)
Before And After School Care K-8: 7:00 a.m. – 6:00 p.m.
Before And After School Care PK Programs: 7:30 a.m. – 5:30 p.m.
"I am a volunteer from the IHM parish and have volunteered at NDA since its opening. Nowhere have I witnessed and felt a part of a more caring, loving, Christian family. I witness children being given such wonderful opportunities to learn and experience areas for not only academic and leadership growth but more importantly, their spiritual growth."
– Parishioner
Copyright © 2023 Notre Dame Academy, Minnetonka, MN. All Rights Reserved.