Our Curriculum And Program Offerings
Our Curriculum And Program Offerings
Diverse Community.
Innovative Education.
Artistic Opportunities.
Academics
Notre Dame Academy has created a Christ-centered community with high educational standards taught by well-trained and dedicated teachers. We embrace forward thinking and offer an education that empowers your child to reach their highest potential. The learning opportunities help to enrich the academic experience, from accelerated classes to the arts.
NDA offers a broad and exceptionally rich curriculum. We meet or exceed all curricular requirements as determined by the Minnesota Department of Education, the Office of Catholic Education in the Archdiocese of St. Paul & Minneapolis and our accreditation association, MNSAA. 
How do we know we provide an exceptional education? As our students graduate from 8th grade, 92% of our graduates enter one honors course in high school, and 88% register in multiple honors classes in the local Catholic and public high schools.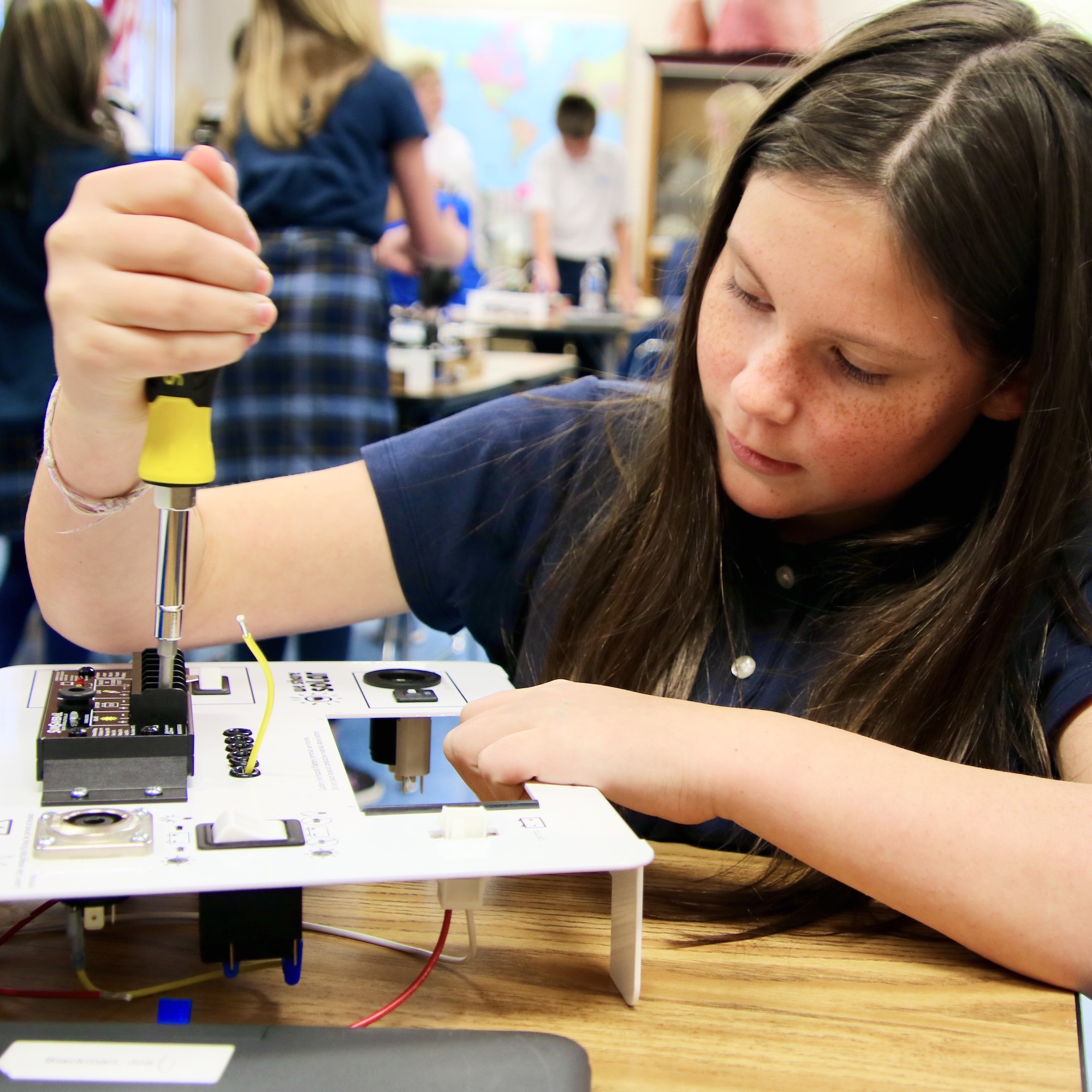 School Hours  
K – 8 Program: 9:00 a.m. – 3:55 p.m.
PK Programs: 9:00 a.m. – 3:45 p.m. Part-time and full-time schedules are available.
School Office: 8:00 a.m. – 4:30 p.m. (Summer hours vary)
Before and After School Care K-8: 7:00 a.m. – 6:00 a.m.
Before and After School Care Preschool: 7:30 a.m. – 5:30 p.m.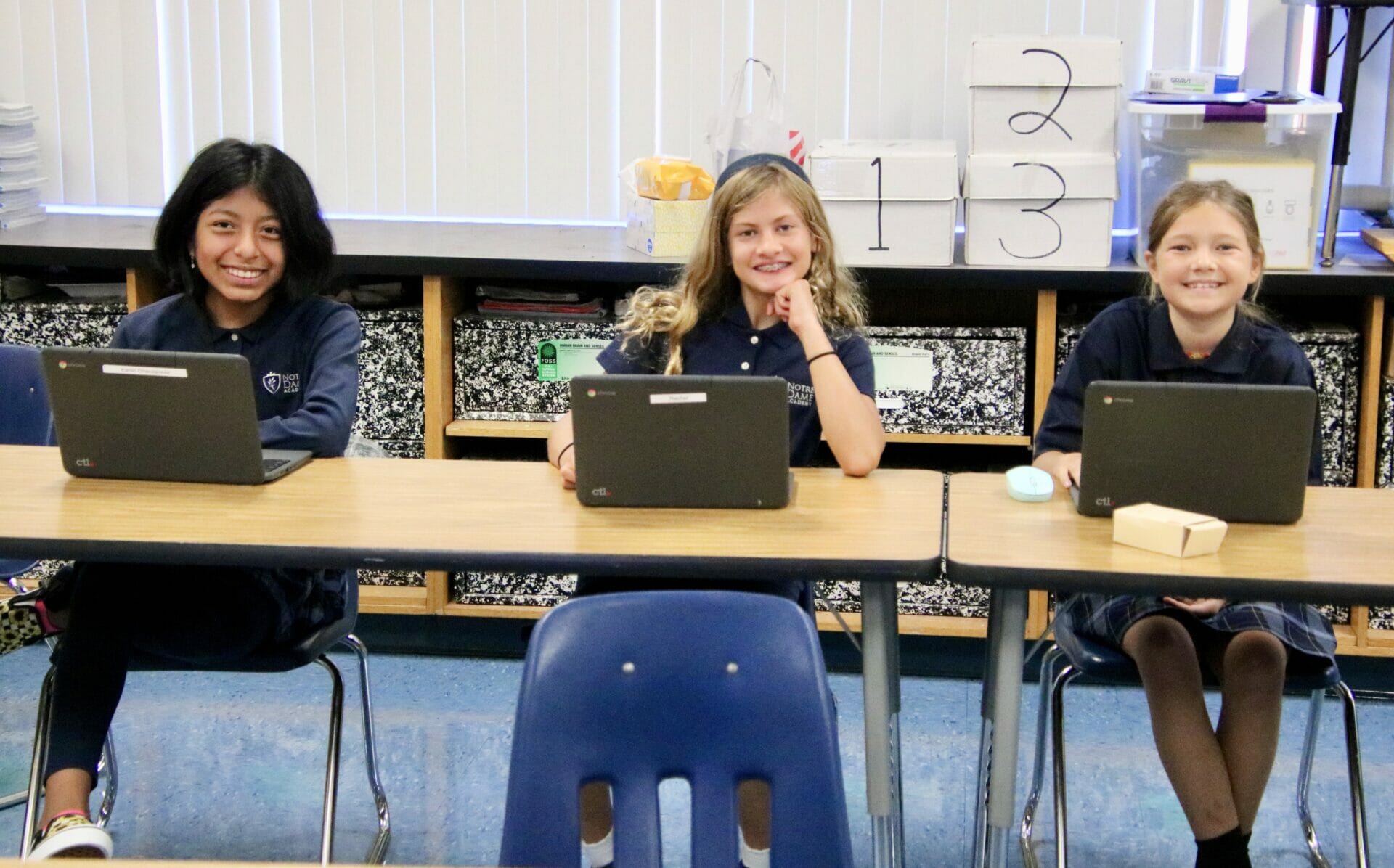 STEM and Technology
Science Technology Engineering and Mathematics and a 1:1 computer program are essential for creating students who are prepared for high school and beyond. Our classes work on STEM in their regular science classes, but the addition of the Makerspace Lab provides hands on STEM activities for all grades. This creates a climate of learning where there is a discernable difference from other school programs. Technology is integrated into the classroom and students are familiar with a wide array of devices. Google classroom is used in addition to Seesaw and other programs that enhance the integration experience.
Spanish
Our students participate in Spanish beginning in preschool. As they graduate from Notre Dame Academy, our level of instruction has given students an edge as many often test into Spanish Two or Honors Spanish in high school.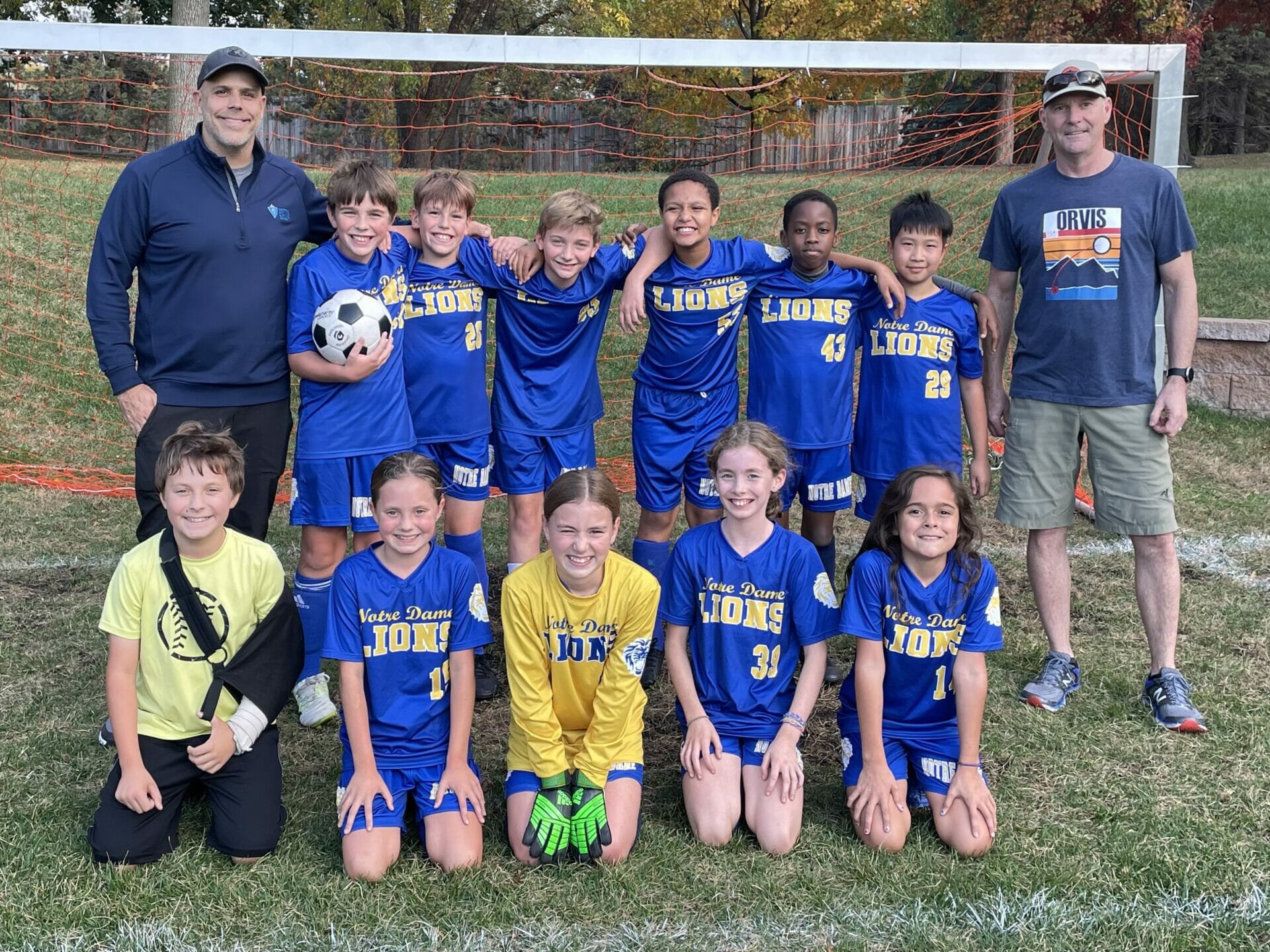 Sports 
Notre Dame Academy has team spirit and participates in a local sports league for private schools, called the South Side Youth Organization (SSYO). Sports offerings vary for grades 4 – 8 and typically include soccer, volleyball, and basketball. Younger student opportunities vary year to year, but have included a sports sampler class, golf and tennis lessons. We are open to other sports, if we have interest from our students.
Our sports program is under the direction of the school Athletic Director and coached by parent volunteers providing another way for students and their families to build school spirit. Please contact our Athletic Director with questions about sports.
Fine Arts
Notre Dame Academy is well known for its fine arts offerings. The music and band concerts and spring musical are well attended and many of our alumni return to watch the programs. Our art program offers a variety of media for students throughout their K – 8 experience, including clay, pottery and a distinctive integration of classroom subjects. Watch this amazing transformation of our school gym to a professional theatre in this time lapse video.
Reaching All Learners
Notre Dame Academy provides advanced level classes for students who need to be challenged further through flexible learning opportunities, differentiation and individualization of some instructional areas.
Additional support is available for students through our Response to Intervention program and special education services. Notre Dame Academy does its best to meet the needs of students on 504 and IEP plans. We have a variety of needs in our building, including ADHD and autism. While NDA does not discriminate against students with special needs, a full range of services may not always be available to them. To see if your special needs child would benefit from our environment, please contact the Principal.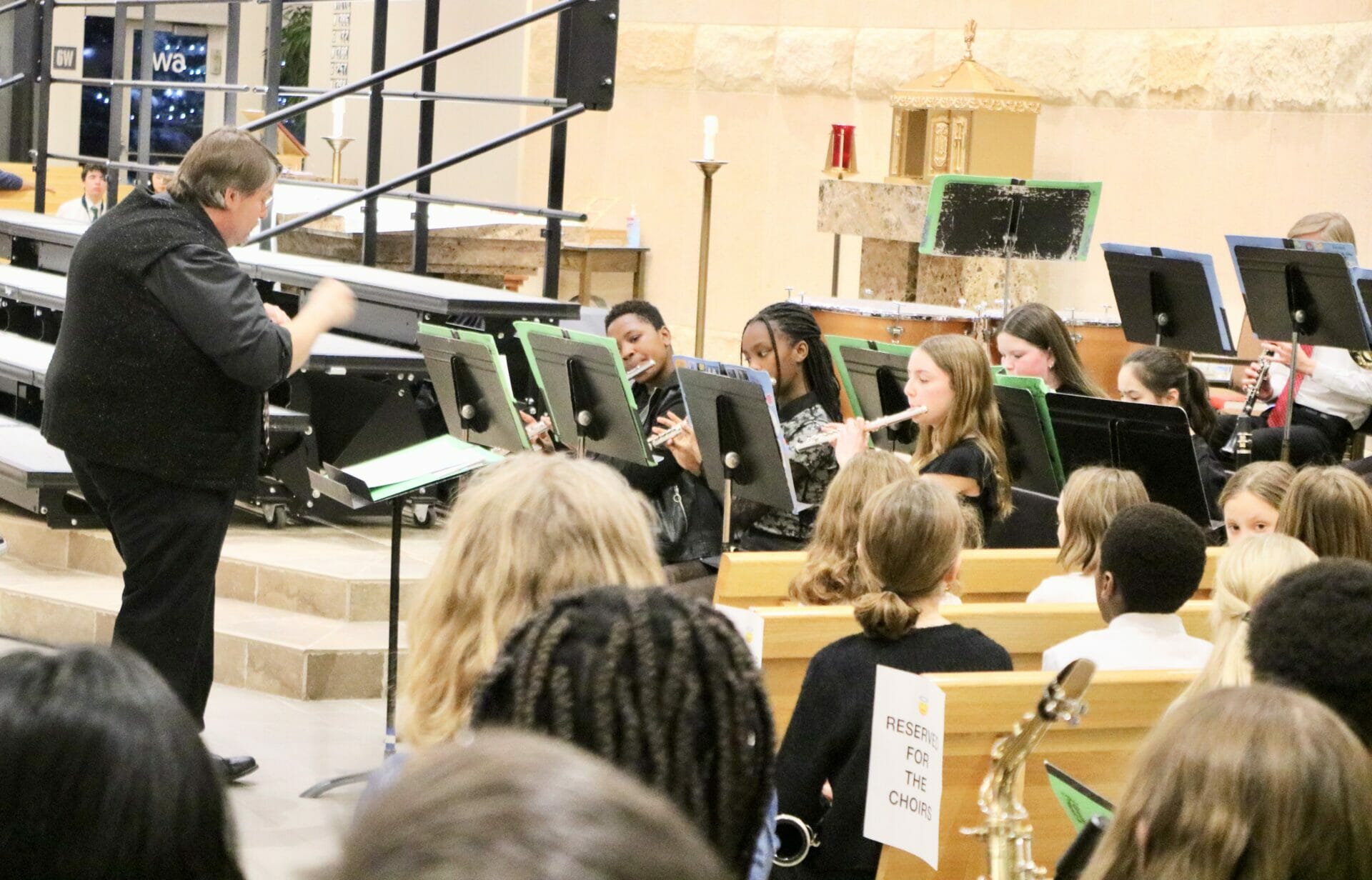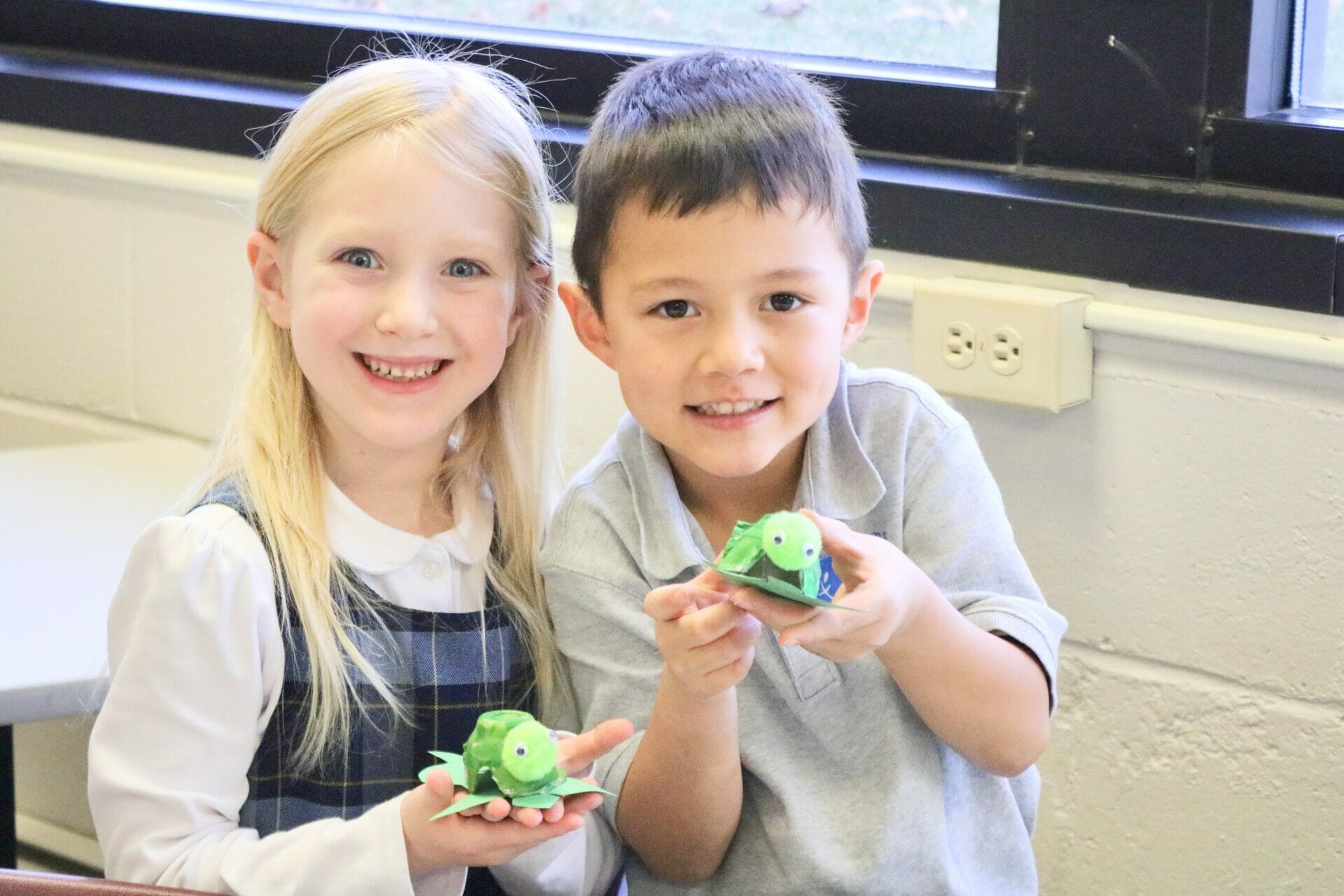 Academic Enrichment Programs
Every child that attends Notre Dame Academy has multiple opportunities to participate in a plethora of educational activities that will enrich their learning experience, from Lego Robotics, Math League, Knowledge Bowl, Spelling Bee, in school presentations, field trips and so much more. At NDA, students will have the advantage of a great foundation for learning, and, will often feel that the school is like a home away from home.
In school presentations and speakers connect our educational standards with live performances and activities like the Earth Dome and Star Dome. We celebrate our diverse cultures with Taiko drummers, native African dancers and other performers.

Here are a few of our academic
activities and teams:
Learning Expo
Spelling Bee
Quiz Bowl
Chess Club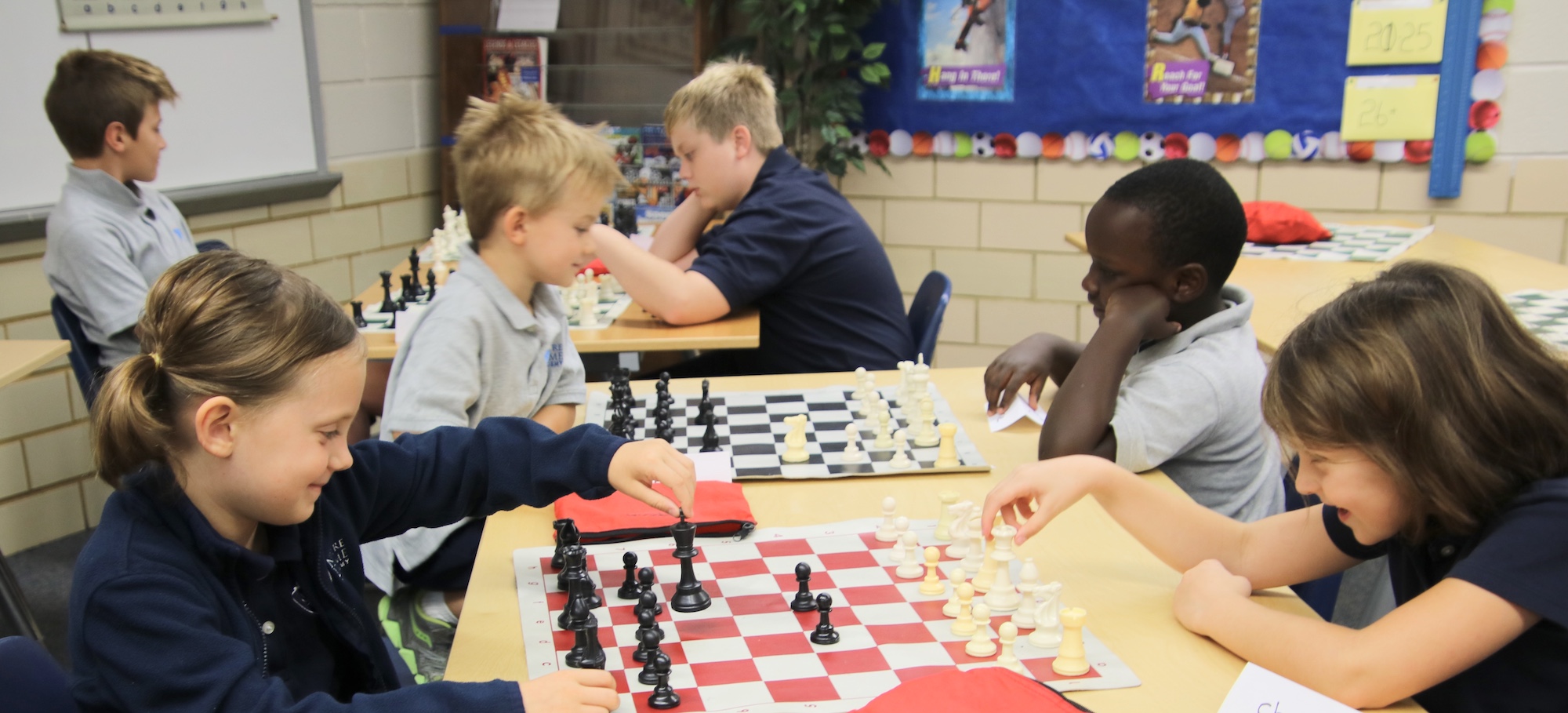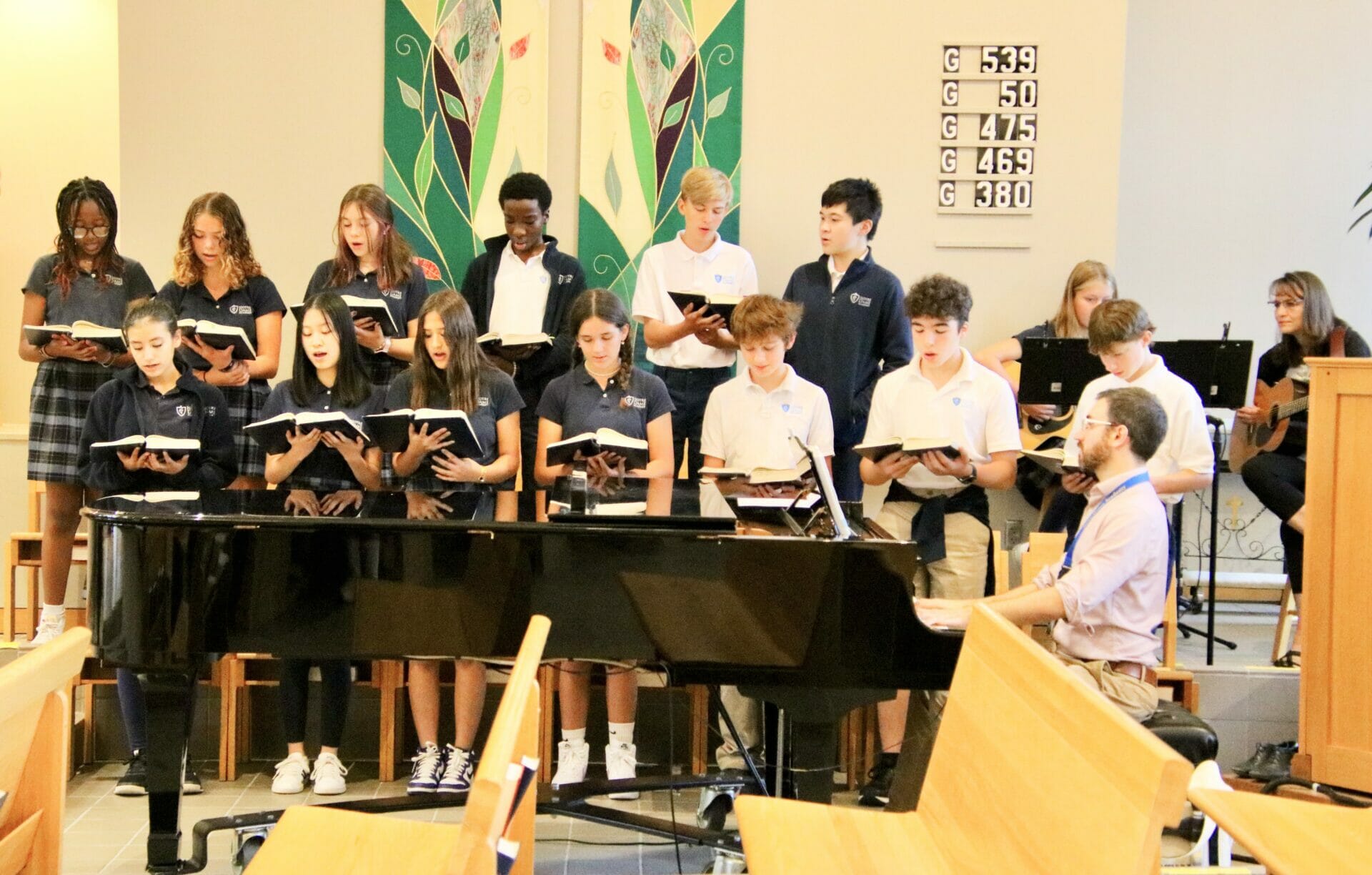 Here are a few of the additional programs where students may participate:
Mass Servers
Mass Cantors
Student Council
Buddy Program 
Our Buddy Program is a highlight for our oldest and youngest students. Kinderstart pairs up with 7th grade, while our Kindergartners are buddies with our 8th grade students. The pairs participate in science experiments, reading activities and help them with shopping at the Christmas boutique each year. The Kindergarteners attend Mass with the 8th graders and the bond our students build throughout the year is incredible!
Field Trips 
Classes take field trips to activities and events that enhance our curriculum. A few recent examples include plays, museums, concerts, Festival of Nations, Global Market, and the State Capital.
Lion's Lair 
We provide on-site wrap around care for our K-8th grade students. Hours are from 7:00-8:45am and from 3:55-6:00pm. Snacks are provided after school. Students may work on homework, play board games, build Legos, enjoy time in the gym, and go outside when the weather permits. Billing for this program is by the hour, and you may view our registration form with cost information on our parent resource page.
K-8 Bus 
Busing is available to our K-8 students. Families living within the Hopkins school district utilize bus service through our home district. For those living outside of the Hopkins school district, we offer bussing through a separate bus company. Registration for both of these bus routes happens every summer.
Hopkins School District 
We are part of the Hopkins School District. Our Hopkins services include a Special Education teacher, nurse, Title I services, and a Junior High Counselor. You may see these team members listed on our staff page. We are grateful for the support they provide on our campus.
"Our family has been incredibly happy with the teachers and staff at NDA. Every year we continue to be impressed by the care and effort each teacher gives our children. The addition of a dedicated resource teacher has been invaluable to our elementary-aged son, who has struggled with math. He now has the opportunity to learn at his own pace and find the fun in math, setting him up for a lifetime of positive feelings about learning."
– Current Parent
Copyright © 2023 Notre Dame Academy, Minnetonka, MN. All Rights Reserved.